Hello to all our followers and partners,
"If every one of us would go to our personal pension advisor and ask, which impact 

investments did the pension fund invest in? We would create a market here." 
Bearing in mind this simple truth, there remains a great deal of work to be done before we can
even ask this question. A significant breakthrough was reached last December, when Dorit Salinger, Commissioner of the Capital Markets, Insurance and Savings, issued a directive compelling Israeli institutional investors to disclose their ESG and impact investment policies. We worked hard to ensure this directive would be issued, and now we are working diligently to maximize the potential of its enforcement As a first step, we organized Israel's first ever conference on ESG and impact investments for institutional investors.
I hope that Israeli institutional investors look to learn from the successes and experiences of their peers
around the world, whose impact investments under management continue to grow every year. We are happy to assist investors to incorporate the principles of ESG and impact investing, without conceding financial returns, and are working to introduce additional tools in order to advance the sector in Israel. Among them, an international platform for impact investments in healthcare, additional social impact bonds we hope to launch in the coming months, and more.
Around the world, as you will read below, more and more financial entities are entering 
into the impact investment sector. On that note, we are happy to announce the 
expansion of our Social Finance Global Network, with the creation of Social 
Finance India. India is one of the burgeoning markets in the global impact investing 
industry and we are grateful for the groundwork that has been put in place by 
the Social Finance Global Network family for collaboration 
between the two countries.
I hope you enjoy reading this newsletter and I look forward to fruitful collaborations,
Yaron Neudorfer
– SFI CEO
First Ever Conference on ESG and Impact Investing for Institutional Investors in Israel
Pensioners increasingly choose to invest in Impact, 10bn Euros have flowed into these funds 
so far, for example in France. The biggest pension fund in the world, the Japanese Public Employees Pension Fund, are now moving to align their investment strategy with ESG. You will begin to see it everywhere, among members of the G8, the G20.

a
In the words of Sir Ronald Cohen, Chairman of the GSG, founder of Apax Venture Capital and a leading pioneer of impact investments in the world. Ronald spoke at the first-ever conference on ESG and impact investments for institutional investors in Israel, hosted by Social Finance Israel and Greeneye. The conference, following the memorandum that mandates reporting on
ESG and impact investments, was attended by an impressive number of senior executives from the Israeli financial sector.
dd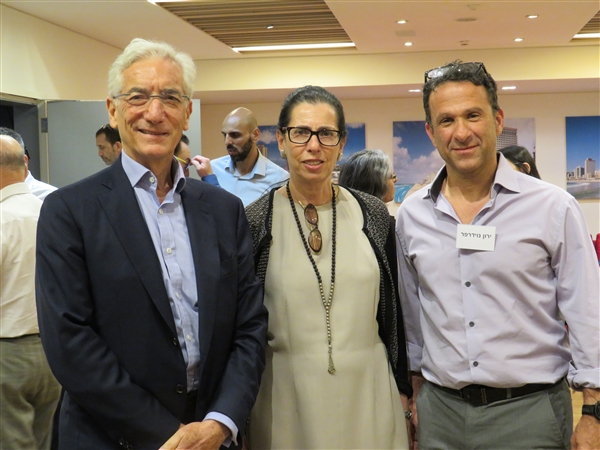 From left to right: Sir Ronald Cohen, Dorit Salinger, Yaron Neudorfer

 

Yaron Neudorfer, CEO of SFI, presented the findings of a unique market survey, indicating that 61% of depositors in Israel are interested to better understand how their pension funds are invested, and would move their funds to one with a strategy of responsible investments. The attendants also heard Dorit Salinger, Commissioner of the Capital Markets, Insurance and Savings, explain the significance she sees in promoting dialogue among investors regarding ESG and impact investments, and how large institutional entities around the world employ investment strategies aligned with social values. Tim Macready, Chief Investment Officer at

Christian Super

, an Australian Superfund, explained how the fund only invests with consideration for ESG and Impact criteria, and plan to widen the scope of their impact investing.

dfkdjdf

 

 

Social Impact Bond to Reduce Diabetes: Showcasing Israeli Healthcare Innovation

We are always happy to tell our story, but an invitation from the Royal Society of Medicine was a tremendous honor! In April, Yaron Neudorfer, SFI CEO, presented our social impact bond to prevent type 2 diabetes at a conference on medical innovation hosted at one of the most distinguished forums in the world. Yaron's presentation generated a great deal of interest, reflecting the growth in the global trend of turning to social impact bonds as a unique financial tool to address various social and environmental issues. We invite you to learn more about how social impact bonds are financing interventions around the world.

jdkf 

 

Our impact family in Israel is expanding! Bridges Fund Management has

launched an impact fund in Israel

, that will invest in impactful technologies and small to medium sized businesses in Israel's geographical periphery, with the aim to generate financial returns alongside positive, measurable impact on sustainability, education, health and employment. The $75M fund, which will emulate the renowned and successful 

Bridges Fund Management

, has two Israeli institutional investors: Discount Capital and Psagot Investments, further indication of the growing recognition of opportunities in the impact investment market.

Y

 

Celebrations are in order! We have a new wonderful sister,

Social Finance India

(SFIND). Less than two weeks after the official launch on May 14th, the first two projects are already underway: a Wholesale Fund for impact investments and a pay-for-success fund that will pay for outcomes in education. India is a leading market for impact investments, exceeding $1B in transactions in 2015.

A

 

<![if !mso]>

<![endif]>
<![if !mso]><![endif]><![if !mso]><![endif]>

 

<![if !mso]>

<![endif]>
<![if !mso]>

<![endif]>

 

KRR is the next to join the global network of impact investors

More and more private equity funds are adopting ESG and impact investment strategies, as

understanding is spreading among investors and institutions around the globe that financial returns and positive, measurable impact are not mutually exclusive. Last month,

private equity giant KRR

, with $170 Billion in assets under management, announced the launch of their

$1B impact fund

, which will focus on investing in renewable energy, education and companies that provide solutions to other environmental issues, in alignment with the UN

Sustainable Development Goals

.

df

 

We are proud to assist investors in Israel to join the evolution of the global financial industry

, and invite you to

approach

us

for consultation on the subject.

dk

<![if !mso]>

<![endif]><![if !mso]>

<![endif]>

 

A First in the US: $13M Raised for Environmental Impact Bonds

One of the many benefits of Social Impact Bonds is the ability to adapt the model to a variety of social and environmental challenges.  Atlanta and Baltimore made history when they were the first cities in the US to issue a

Municipal Environmental Impact Bond

. $12.9M were raised from investors, intended for projects that improve city infrastructure to mitigate the environmental and economic damage caused by the overflow of sewer systems following floods, a more frequent reoccurrence in recent years.

fd

 

The project targets link financial returns for the investors to the environmental achievements of those infrastructure development projects. A portion of the savings brought about by the upgraded infrastructure will be used to pay financial returns to investors.

dfd

<![if !mso]>

<![endif]>

 

SIB to Reduce Chronic Homelessness Issues First Payments to Investors

In case you were wondering, the number of

SIBs issued around the world

is rapidly increasing. We are happy to inform you about the success of the first

SIB to finance a housing intervention

in the US. The SIB was launched in Massachusetts in 2016, in order to assist chronic homeless people and provide them with steady and supportive housing. This intervention not only provide relief to the homeless, but will save on public costs involved in treating the homeless, such as  operating shelters, hospitalization and more. 92% of the program's participants enjoy stable housing one year after completing a therapeutic program they received within the parameters of the project and the savings for the tax payers is estimated at over $2M.

fdf